Hardware Image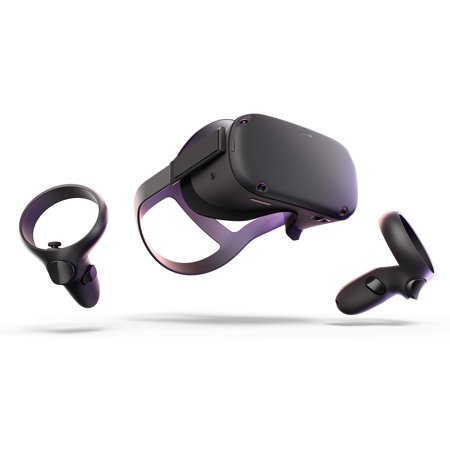 Description
Oculus Quest is the first all-in-one gaming system for VR. This wireless PC-free gaming system includes a headset and VR controllers for a compact, portable and simplified setup.
Headset
The Quest has built in sensors for room-scale tracking and has adjustable straps on the sides and top of the headset for optimal fit.
Creator/Manufacturer
Oculus (part of Facebook)
Audio
Built in speakers that support spatial audio. Headphones optional
Camera
Four 6- Degree-of-Freedom cameras
Battery
Expect the Quest to last 2 to 3 hours after a full charge, depending on whether you're watching media or playing games.
Glass Space
Glass space is large enough to fit glasses and can be adjusted if necessary. Eyeglass spacers are also available if needed.
Accessories
Comes with Oculus Touch Controllers
Accessories Replacement
Replacement accessories available on Oculus's website
Date Hardware was Released with Starting Price
May 21 2019 for $399(64GB) and $499(128GB)
Further Comments
The Quest is portable, doesn't need to be connected to a PC. Can be connected to PC using a USB-C cable.
Location on Campus
Foreign Languages Building G8C